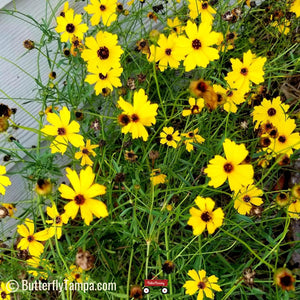 Coreopsis is a genus of flowering plants in the Aster family, Florida's official wildflower. With 16 species native to the state (and at least one found in every county), these beautiful flowers are also used extensively in Florida's roadside plantings as part of the Florida Department of Transportation's Wildflower Program.
Leavenworth's tickseed (Coreopsis leavenworthii), a 1.5-3 foot tall species that likes mesic soils and begins blooming in early spring. They have wonderful, daisy-like yellow blossoms and they also provide extremely valuable ecosystem services. Coreopsis is an important food source for the caterpillars of five moths – the Sunflower Bud Moth, Dimorphic Gray, Sunflower Moth, Common Tan Wave, and Southern Emerald. Audubon notes that in our area, the plant's seeds may attract a whole range of birds including Cardinals and Grosbeaks, Chickadees and Titmice, Crows and Jays, Finches, Nuthatches, Sparrows, and Woodpeckers. Finally, the Florida Native Plant Society reports that Coreopsis species are an important nectar and pollen source for butterflies, bees, and other pollinators.
The Old Farmer's Almanac notes the symbolic meaning of Coreopsis is "Always Cheerful." Since these flowers can be a wonderful asset to almost any type of garden if you select the right species for your soil conditions, why not add some more cheer to your world? Plant some Coreopsis and help #NurtureNative.
/djs