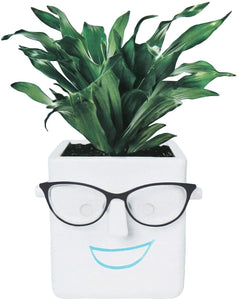 THE PLANTER WITH PERSONALITY. Finally, a house plant that does more than just sit there. The Face Plant keeps both your plant and glasses safe and cozy and does it with quirky personality. Ridiculously awesome glasses holder.

IT'S A PLANTER! Made of ceramic and equipped with a drainage hole, the Face Plant will be the perfect home for your little flowery friend.

IT HOLDS YOUR GLASSES! With a built-in nose and ears, the Face Plant is the perfect place to rest your frames and ensure you never lose your eyeglasses (or cactus) again.

DRAW ON IT! Use dry-erase markers to give the Face Plant personality! Doing so makes boring potted indoor house plants 20% less boring instantly. (pen and glasses not provided, use your own!)

IT'S A GREAT GIFT! The Face Plant is perfect for anyone in your family - especially those with green thumbs, four eyes, and a passion for drawing on things you're normally not supposed to. The holidays are approaching.