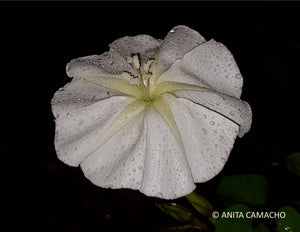 The moonflower is essentially a night-blooming morning glory. It is native to Florida and most of tropical America. The flowers are a beautiful and showy pure white. It is a long-lived perennial vine that blooms usually in the evening in summer to early fall. The dark green leaves are oval or heart-shaped. This is a fast-growing vine (up to 20') and recommended for use on a trellis or in an area where expansive growth can take place. The plant does best in partial to full sun. It is not salt tolerant. Moonflowers are pollinated by moths and other nocturnal pollinators due to their evening and nocturnal blooms. It may die back in winter if we get a harsh enough freeze.
Pair it with Simpson's stopper (Myrcianthes fragrans) for an aromatic experience that both humans and our native pollinators will enjoy.

Please note: moonflower has low severity poison characteristics. Ingestion of any part can cause hallucinations and confusion. As a result, it's a good idea to keep children and pets away from them. It's also best to remove spent flowers before they drop seeds; this will promote robust blooming and minimize the risk of accidental seed ingestion.